Modern life can get you down. Crisis, loss, stress, worry, insecurities and change all have the potential to get in the way of happiness and, if left unchecked, may lead you to feel like you're unravelling. That sense of being out of control tends to impact your self esteem and other areas of your life: success at work, how you interact with friends and family, the type of food you eat or the amount of alcohol you drink.
The further we fall into the spiral of not coping, the closer we get to reaching the threshold at which we stop managing our lives successfully. This is where talking therapy comes in. It provides a confidential space to voice emotions, thoughts, and feelings; helping you carve out your own path to feel more peaceful during times of adversity.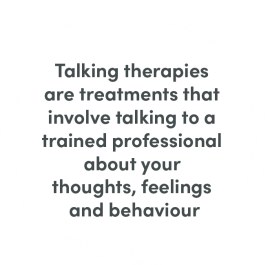 Talking therapy isn't always comfortable but we will make sure you always feel safe. Some people want to be listened to, others are looking for more interaction and to be challenged. We get that.
We work in a variety of ways and offer an extensive range of modalities across our services. If you're unsure which is the right, we're happy to guide you as to the best technique, practitioner and approach for your individual needs.
How does
Talking Therapy work?
Our therapists draw on several approaches at any given time and may use a variety of solutions and methodologies within the same session to maximise the benefits and successes you can achieve.
We start with a comprehensive personal assessment which helps the therapist build a therapy plan that's right for you. We suggest working together for a fixed number of weeks (usually 6 to 12 sessions) to create a sense of momentum and to have an end goal to aim towards. If, at any point, we feel you need more, that's a conversation we can have together. We want to support you to achieve your version of success which may take time; we certainly won't leave you to manage alone if you're not ready.
Adults
Stress management
Mothers (Post Natal Depression)
Sleep disorders
Self esteem
Anxiety
Depression
Anger management
Phobias
PTSD
Coping with Addictions
Eating disorders/Food behaviours
Bereavement, grief and loss
Children & adolescents
Anxiety
Self-harming
Confidence
Bullying
Self-worth
ADHD
Expressing feelings
Internet gaming disorder
Perfectionism disorder/comparison
Body dysmorphia
Feeling overwhelmed or off-balance
Struggling with FOMO
People pleasing
Negative inner critic
Fear of judgement