Rivkah Goldberg
Sound Healer, Reiki Healer, Yoga Instructor, Breathwork Practitioner, Meditation Guide, Personal Trainer and Chakra Specialist
Specialist Interest: As a healer at heat, Rivkah has always been fascinated with the link between physical and mental health. A firm believer that, as a society, we hold too high of a regard for the yang energy – praising overwork at the expense of self-care. In her whole career so far, whether that be teaching music, leading fitness classes or designing wellbeing concepts, Rivkah strives to impart her knowledge of health and wellbeing in an accessible and subtle way, that will give individuals self-care skills that will last a lifetime. Rivkah prides herself on her intuitive energy healing and have had some incredibly powerful results from my combined Sound and Reiki healing.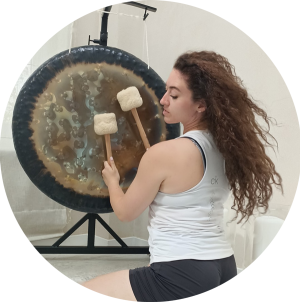 About Rivkah:
From spending a month in India for her Yoga teacher training, to expanding her knowledge with becoming a Reiki healer and Pranayama therapy specialist, Rivkah has cultivated her skills and successfully composed and played sound healing and designed meditation and mindfulness concepts for companies such as David Lloyd, TUI, AirBnB Experiences, Expectful and the Greatest International Scavenger Hunt and led sessions for Etsy, Google, YouTube and the Commonwealth Athletes.
Rivkah aims to help individuals connect mind body and spirit and heal as one entity. She uses hands on Reiki energy healing, Sound healing, Crystals, Tarot and Sanskrit chanting to help you release, heal and grow.
If magic exists then Rivkah has it. My first reiki experience but what an incredible journey. Highly recommend for anyone who is ready for this dreamy treatment. - James Crossley (Gladiators "Hunter")
Rivkah's key areas:
Anxiety reduction
Pain relief
Heartbreak
Emotional limbo