Hady Kamar
Dynamic Integrative Therapist
Professional Bodies: NCS
Specialist Interest: Big life changes and existential questions.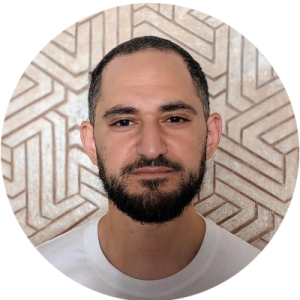 About Hady:
Hady has a passion for therapy and the power it has to unburden, uplift and bring about big changes. He uses a combined 20 years experience in psychotherapy and the creative arts to offer a unique style that ranges from talking to art therapy.
Hady's uses a broad range of evidence-based techniques to provide a therapeutic experience that is individually customized to meet the needs of both adults and young people. He can help you address issues of anxiety, stress and mood, relationships, 'high expectation burnout', overthinking, insomnia, negative self-talk, and family issues for both parents and kids. Hady also has specialist knowledge of internet and gaming addiction - working with clients to effectively reduce their usage.
His background as an arts workshop facilitator and in creative therapy provides you the additional option of a highly effective means to communicate and process your struggles - simultaneously helping you feel better while learning a mindfulness practice for lifelong self-care and empowerment. This type of therapy is particularly good at helping you get out of your head and out of your own way.
Clients describe Hady as calming, supportive and optimistic. He helps them feel at ease, giving them the chance to unburden themselves from the expectations of the outside world and to express themselves freely. It's this type of rich therapy that brings about meaningful, lasting change; allowing clients to become lighter, more resilient and more dynamic versions of themselves.
Hady works in private practice and with a dedicated trauma service within the NHS. When not counselling, Hady is busy in his studio making things.
Hady's key areas:
Mood & Depression
Major life changes
Stuckness & Confusion
Shame
Anxiety, social anxiety & isolation
Grief & loss
Stress Management
High achiever burnout
Pressure & the fear of failure
Relationships
Men's Issues
Meaning & purpose
Parenthood
Cultural issues
Creative blocks
Work/life balance
Addiction (Digital/Gaming/Marijuana/Pornography)